Hair Stylist Career
Voga Salon is always looking for motivated, passionate, and career oriented hair stylists to join our team.
How are we different?
We offer an accommodating team of front desk coordinators to take care of all guests scheduling needs.
We offer a beautiful waiting area with a complimentary full beverage bar for our customers & staff.
We offer a well rounded education system. Education is offered monthly, covering a wide range of subjects. Classes are designed around the team member needs.
We offer complimentary chiropractic treatments to our staff.
We offer insurance options for our staff.
We work as a team of professionals and nothing less! Our recruiting system focuses on selecting individuals who are team oriented, and whose personalities, skill level, career goals, and passion for the industry is inline with our company's vision.
Voga Salon stylists receive a professional online profile, picture gallery, eye-catching marketing tools, and much more.
Our team receives the support of a number of business coaches who are committed to help them achieve their professional goals.
Our stylists work in ergonomically designed suites, without the pressure of weekly rent. The suites' design allows our beauty professionals to work efficiently, while providing a comfortable, private environment for our customers to enjoy their pampering experience. In addition, our suites are open ceiling and open door (no door) to allow for the feel of the traditional busy salon sounds but keeping the one on one relationship building time with your clients. Each suite is fully equipped with the following:
• Lighting that stimulates color reflection in sunlight.
• Hydraulic, reclining styling chair.
• Comfortable, tilting shampoo bowl.
• Wall mounted hooded dryer.
• One-touch vacuum system for easy hair removal.
• High-quality styling tools.
• Entire set of Backbar & Styling Products.
• Tall, elegant cabinet for accessible storage of products, tools and personal belongings.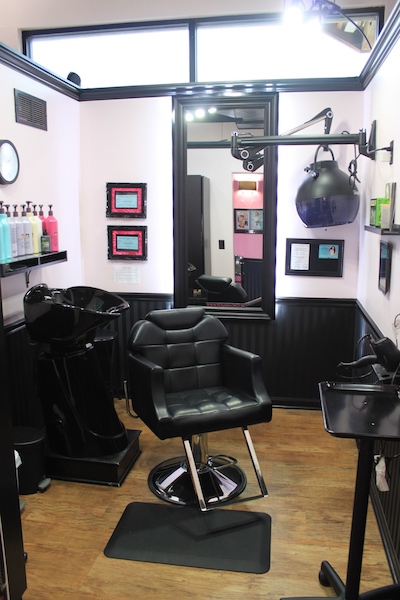 If you are a stylists who is passionate about the industry, and who has a strong customer service focus, this is the time to take your career to the next level. WE WILL SHOW YOU HOW!