Anniversary Month Promotions
4 years ago we started to chase our vision. We called it Voga & shaped it with the idea to provide an uplifting experience for guests to feel beautiful, & to create a professional environment for our team to feel empowered.
Along the way we have crossed paths with many amazing people who helped us make this dream possible. As we reflect back on our journey, our hearts fill with gratitude for all of you.
Big thank you to our team, our supporters, our guests, our suppliers & to all Vogaholics & Vogadolls – We are possible because of you!
As a way to say Thank you, we have put together this amazing promotions for you…Hope you enjoy them!
July 2016 Promotions:
25% Pro Fiber Treatments:
New L'Oréal Pro Fiber Treatment: this is a breakthrough solution for women with damaged hair. It works in 3 simple steps:
Regimen is personalized to your individual level of damage thru a unique in-salon evaluation to asses your hair needs.
After diagnosis, your stylist will apply the treatment that aligns to your level of damage to repair your hair.
You will take home the prescribed Pro Fiber haircare to extend the results of the in-salon treatment for up to 6 weeks! All Pro Fiber Haircare is 20% Off this month.
Save 15% on Pureology's Shampoos & Conditioners Liters:
Strength Cure
Hydrate
Smooth Perfection
Volume
Nano Works Gold
Perfect for Platinum
Curl Complete
Save 15% on all L'Oréal Tecni-Art Styling Line:
Because you deserve to love your hair everyday!
Save 15% on all Redken Curvaceous Line:
Great solution for your curly hair.
Save 15% on all Redken Frizz Dismiss Line:
Amazing protection against humidity induced frizz.
Enjoy 50% Off Brow Shaping with any service
Enjoy 50% Off Hair Treatments:
Olaplex, Deep Conditioning, Smoothing, Bioting, Cat, Chemshots, & Powerdoses
Gift with Purchases of $50 or More
July's Gift Of The Month:
Nano Works Gold Shampoo & Conditioner Set & a Starbucks Gift card…We call it VogaDoll Therapy!! Remember to Check-in & Like Us on Facebook for a chance to WIN IT!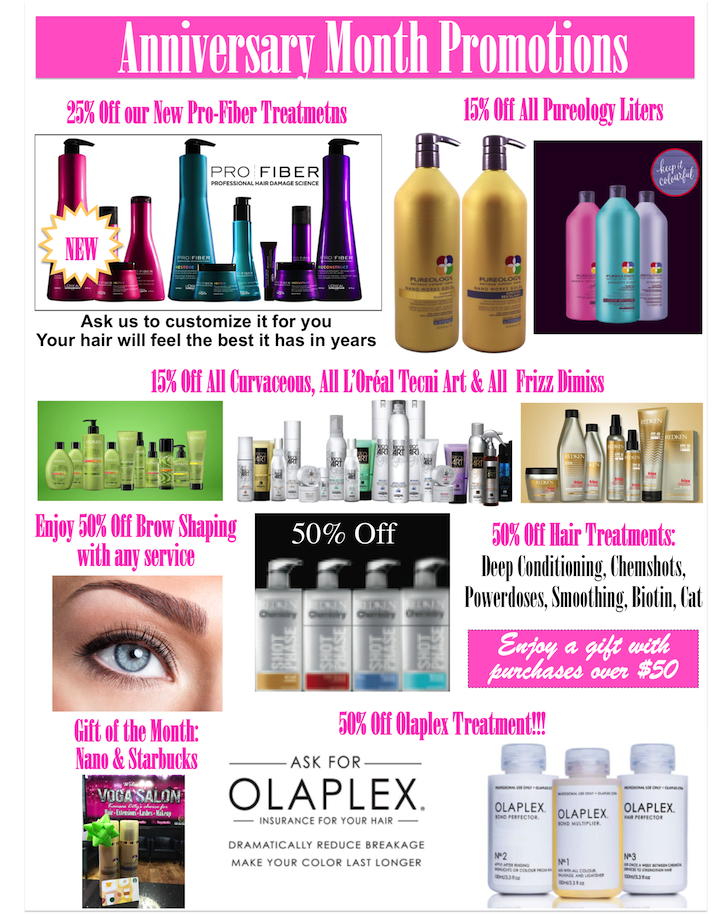 Referral & Rewards Program:
Hair Extension Referrals:
Refer a new hair extension client & receive 50% OFF Your Next Hair Extension Maintenance.
Referral Points & Beauty Rewards:
We truly have the best customers on the planet, and we value them very much! We have a reward system in place that gives our clients beauty cash rewards for every referral they send us. Ask our front desk for details on how to start enjoying these great benefits!
Hair Donations:
Enjoy $10 OFF a Haircut, Shampoo & Blowout when donating hair.