Top 5 Hair Extension Methods to Add Length & Volume.
After multiple certifications, over a thousand hair extensions applications, and hundreds of satisfied customers, we have selected our top 5 hair extensions methods to enhance length and volume:
1. Microlink & Nano-Ring Sigle Strand Method:
Strand by strand hair extensions is a technique where small single strands of hair (approximately 3mm in width) are applied to small sections of the natural hair.
Microlinks & Nano-rings are small cylinders used to secure the strands of hair extensions to the natural hair by using pressure. The Microlinks we use are covered 360 degrees by hair, and the Nano-rings we use are the smallest available in the market.

2. Tape Weft Hair Extensions: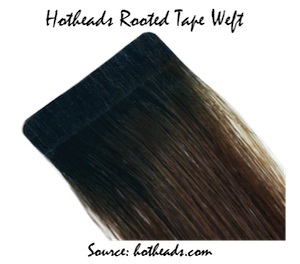 HE tape Tape-in systems are a lightweight adhesive weft that is applied without the need of tools or heat. This makes it the fastest system on the market to apply. In addition, the tape wefts lay completely flat to the scalp, which allows us to customize the density and extension position more efficiently, while still keeping them hidden.
3. Nano-ring Weft Hair Extensions: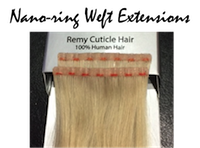 This is a lightweight 1.5? to 2? weft that is attached to the natural hair with Nano-rings, and lays completely flat to the scalp to minimize detection.
4. Evolve Volumizer: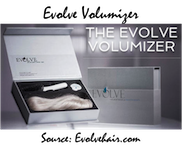 This is a semi-permanent, lightweight hairpiece that is fitted with Nano-rings to the client's temple and crown area to cover thinning and/or bolding. It is ideal for women with up to 50% hair loss in the crown area.
5. Halocouture & Beauty Works Clip-ins:
The Halocouture is a unique system that adds length and volume with zero attachment points on the natural hair. The extension piece is constructed on an invisible "halo" ring that lays comfortably above the clients ears, and wraps around the back of the head from ear to ear. This is an at-home system that is applied and removed by the client as needed. Beauty Works is a luxury, professional Clip-in extension extension system. It is made with 100% human remy hair, and it provides great blending capabilities and thermal styling for regular use.
Here is a quick Halocouture Demo: