July 2017 Promotions
Vogaholics, 

Summer is here & we're having a blast, this month we are celebrating FIVE years of Voga!! We would like to thank our loyal guests for accompanying us on our journey and trusting us to take care of your color, hair extension, eyelash and makeup needs. We couldn't do it without you and wanted to show our gratitude through this months' promotions.
We hope you'll be able to join us in celebrating our Vogaversary with us!
Voga Perks:
Voga Salon App now available for Apple & Android!

We are now available at the press of a button. Includes features such as online ordering, referral tracking, stylist bios & galleries, request an appointment option, specials & promotions section, etc. We also included some App Exclusive Loyalty Programs & a daily Scratch Off!

PRICE MATCHING with Ulta & Beauty Brands

As your hair care professionals we want to coach you on styling and hair care tools that enhance your style and protects your most valuable accessory, YOUR HAIR. We are now matching* promotions on any Redken, L'Oreal Proffessionnel and Pureology tools from Beauty Brands and Ulta!

*To match offer you must present coupon or ad at time of checkout, available for in-salon purchases only.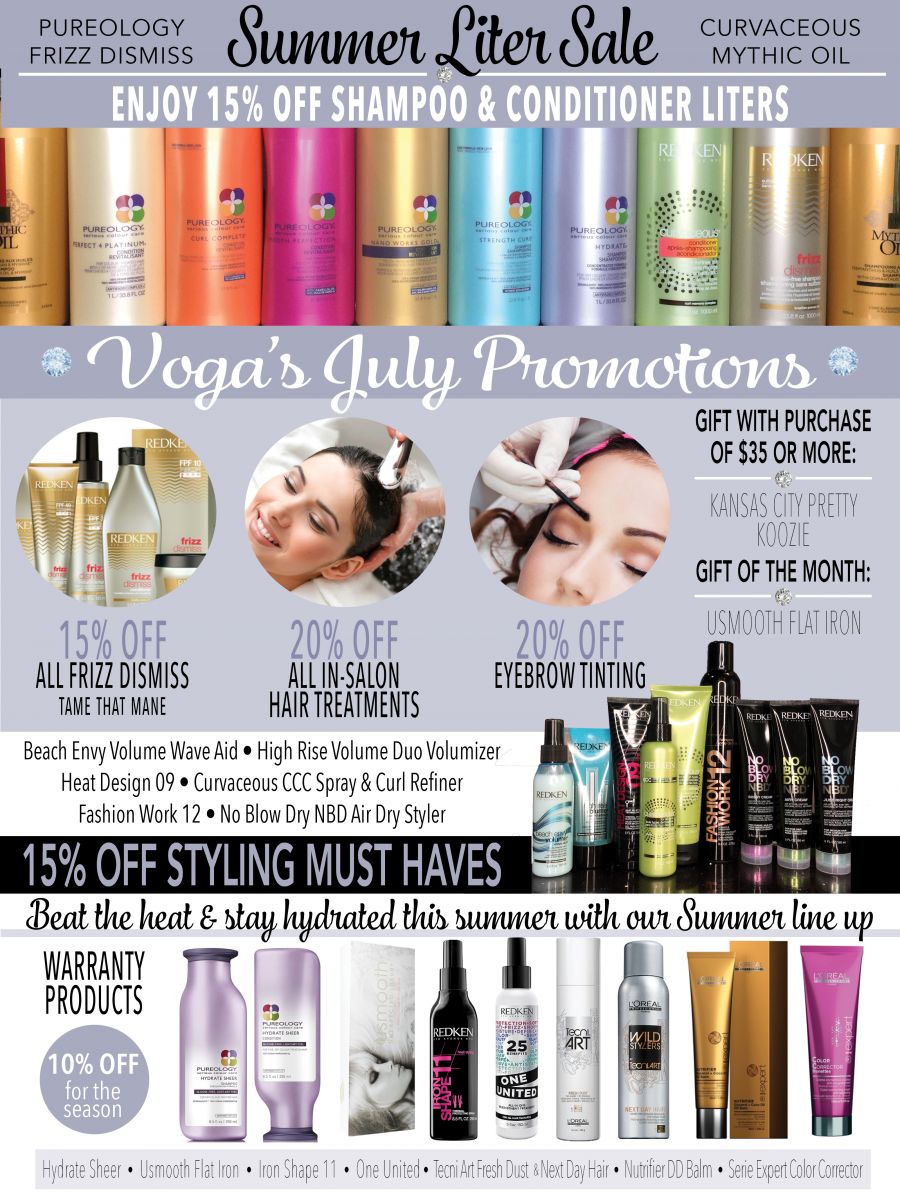 July 2017 Promotions:
20% Off ALL In-Salon Hair Treatments:

We offer a wide variety of hair treatments to address issues specific to your hair!

20% Off Eyebrow Tinting:

Define those brows - tinting allows you to enhance the color, shape and thickness of your natural eyebrows.
An anti-humidity, smoothing line featuring the first ever Frizz Protection Factor (FPF) with four distinct levels of smoothing. Don't let this humidity get the best of you!

15% Off Summer Styling Must-Haves:

No Blow Dry NBD Air Dry Styler, Beach Envy Volume Wave Aid, High Rise Volume Duo Volumizer, Heat Design 09, Fashion Work 12, Curvaceous CCC Spray & Curl Refiner.

SUMMER LITER SALE • 15% Off Pureology, Frizz Dismiss, Curvaceous & Mythic Oil Liters:

Stock up on your favorite shampoo and conditioner, whichever line you prefer, and not worry about grabbing it again until next year!

Free Shipping On ALL Online Motives Makeup Orders:

No minimum amount required AND easy three step sign up!

July's Gift Of The Month: 

USMOOTH FLAT IRON

Remember to Check-in & Like Us on Facebook for a chance to WIN!
 
These are specifically chosen to PROLONG the life of your color, PROTECT your investment & ADDRESS problems specific to environmental factors.
Shampoo & Conditioner:

Pureology Hydrate Sheer

Multi-Purpose:

Redken One United

Styling Tool:

Usmooth Flat Iron

Heat Protectant:

Iron Shape 11

Hair Refreshing:

Tecni Art Fresh Dust & Next Day Hair

At Home Treatment:

Nutrifier DD Balm & Serie Expert Color Corrector
Warranty Products will be

10% off

for the duration of the season!
Interested in Extensions?
Give it a try & you may just fall in love!
Affordable FaceFrame & Fill-In Tape Hair Extension Services:

FaceFrame • Only $187 Adds bulk around the face to correct breakage areas AND/OR add pops of color without chemical services.
Fill-In • Only $239 for HotHeads OR $337 for Hairdreams Adds medium level of volume around the face and sides.

Free Gel Cleanser with your First Full Set of Eyelash Extensions:

Eyelash Extensions are an ideal, semi-permanent solution for clients wanting longer, fuller, beautiful eyelashes that seamlessly blend with their natural eyelash line OR those wanting to ditch mascara for an easier morning routine. Full Sets start at only $199, savings of $35!